Bluehost Website Hosting

One of the best ways to hack your career is by signaling your value with a personal/professional website. (See here and here for how).
Bluehost is a great host to choose from, starting at just a few bucks a month.
---
Hunter.io - Find and verify email addresses
Find email addresses for employees and hiring managers.
---
Loom

Get 10x better at communication by showing your face! Use Loom, en essential tool for hybrid workspaces to record quick videos of your screen and cam!
Be it pitching new ideas, presenting your work, or even sending video pitches for your job hunt, Loom is the way to go!
---
Teal Job Search Tracker
Bookmark jobs. Manage follow up. All in a slick tool. Teal's free job tracking tool is the most efficient way to manage a job search.
---
JobSeer.ai

Get matched with a job that suits you, get referrals, get up-to-date insights on company data.
---
Evernote

The classic note-taking app.
Or, is it?
Evernote can be your treasure of ideas, your task management system, and as Tiago Forte puts it, your second brain.
Check it out once again, it's worth diving deep into ;)
---
Coursera

Coursera has always been the go-to place to acquire knowledge without the hassle of college.
And now, after years of addition of new courses to their already vast library, it's the best time for you to enroll in a course and add another basket of knowledge.
Browse through courses, learn more about them and enroll in an interesting one!
---
Udemy

Learn with the real world in the back of your head. Learn with the present, and for the future.
Udemy is there for you to train for a better future.
Brose through 185,000 online video courses and learn the skills of the future!
Expand your knowledge, enroll in a Udemy course!
---
Skillshare

Creativity is a muscle. The more you train it, the better it gets.
And there's no better way to explore your creativity than to learn a new creative skill. And no better place to learn creative skills than Skillshare!
Explore thousands of hands-on creative classes and discover lifelong learning.
---
Neverbounce.com - Verify Email Addresses

A great tool to double check an email is correct.
---
VEED.io - Online Video Editor

If you're looking for a user-friendly and feature-packed video editor to enhance your career development and job-seeking efforts, veed.io is your place to go.
With its intuitive interface, an impressive range of editing tools, and the ability to add automatic captions, logos, and subtitles, this tool is a game-changer for creating professional and engaging video content. (Hint: Create awesome video pitches using VEED.io and grab the attention of the hiring manager!)
Get started creating outstanding videos!
---
ChatGPT
ChatGPT is an AI-based language model trained by OpenAI that can understand and generate natural language text.
It can be used for a variety of tasks, such as answering questions, generating text, and even having conversations with users.
Improve your chat experience with ChatGPT and try it out now!
---
CNN Cost of Living Calculator

Moving to another city is always in the back of the head of so many people.
But there are tons of uncertainties. Especially when it comes to cities you don't know about. You wonder things like- what it'll be like in the new city? Would you be able to afford it? How far will your salary take you?
Clear up your confusions with a simple yet great tool: CNN Cost of Living Calculator.
Compare your salary to your current and dream cities, and CNN even helps you give an idea of where your money will be going (groceries, rent, utilities, etc.)  
Not only will it give you a better understanding, but it'll also give you confidence in asking for the right compensation.  
Compare your salary and calculate the cost of living in your dream city now!
---
Visual CV
We're big on sending a video pitch instead of a resume. But we get it, some companies have it as mandatory. So what to do when you have to create a Resume or a CV?
Use Visual CV, the #1 resume & CV builder, trusted by 4+ million people to land their dream job.
---
WordPress
WordPress is the most popular content management system that allows you to create and customize websites, blogs, and online stores.
It provides a variety of plugins, themes, and templates to make your site highly versatile and professional.
Build your own website now with WordPress!
---
Shapr Networking Tool

Swipe left and swipe right...for your business network! What if you spent a few minutes a day on this one?
---
Airtable
Airtable is a powerful cloud-based spreadsheet and database management platform that lets you organize and share data with ease.
It features a user-friendly interface that allows you to create custom fields, add attachments, and use filters and views to sort your data.
Try Airtable now and streamline your data management!
---
PayScale Salary Calculator
Sometimes, you misjudge yourself and demand less. That imposter syndrome kicks in and makes you ask less for yourself.
But with a legit data source supporting you, you can have the confidence to ask for the right compensation.
Get accurate salary data pulled from a large pool of information, whenever you are looking for a new position, negotiating a raise, or shifting to a new town.
This tool is all you need to know what you are worth as a professional.
---
Huntr.co

Organize your job search and discover new opportunities, all in one place.

Sign up now.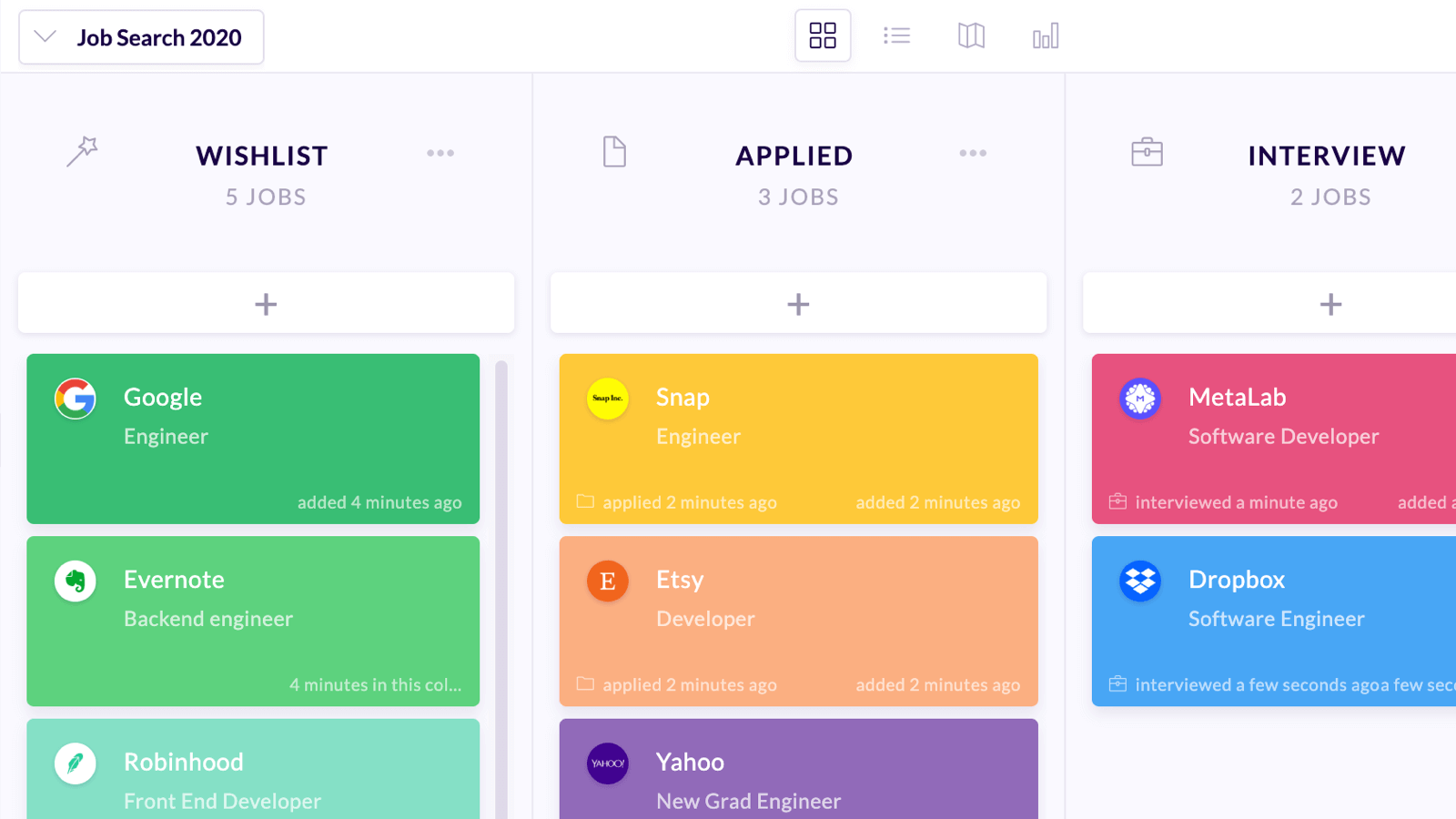 ---
Snov.io - Find and verify email addresses

Find and verify email addresses for employees and hiring managers.
---
Followup.cc
FollowUp for email keeps your conversations and tasks from slipping through the cracks.
Perfect for remembering to follow up with the hiring manager when pitching jobs.
---
G2 Stack
A perfect place to learn a company's tech stack!
In simple words, G2 Stack is a comprehensive software review platform that helps businesses make informed decisions when it comes to selecting the right tools for their needs. You can filter reviews by various criteria, and compare software options side by side.
With a wealth of verified reviews and the ability to compare different options side by side, "G2 Stack" makes it easy to make an informed decision.
Learn the tech stack of the company you're applying to!
---
Notion
Notion is an all-in-one productivity and collaboration tool that can be used for note-taking, project management, and more.
It provides customizable templates and page layouts to help you organize your work and ideas.
Add text, images, videos, and other multimedia content to your pages with Notion and boost your productivity!
---
Canva Video Recorder
Canva Video Recorder is a great tool for creating professional-looking videos with minimal effort.
Its UI is intuitive and easy to use, allowing users to record their screen and add elements like text, images, and audio with just a few clicks.
It's super valuable for creating marketing videos, tutorial videos, and other types of content that require a polished, professional.
Overall, Canva Video Recorder is a great option for anyone looking to create high-quality videos without the need for expensive equipment or editing software.
Record a video in the easiest way!
---
Have a recommendation to add to Tools? Fill out this quick form!
The Daily Job Hunt
Join 125,000+ readers and get a kick in the inbox every morning.
---